BAND SAW - SHN 40/24
The twin columns band-sawing machines of the "Semiautomatic Line" have been studied and produced taking into consideration the problems and the needs of medium and heavy structural steel work. They represent the maximum expression of technology applied to the cut of both medium and large I-beams, and profiles and pipes of small, medium and big dimensions.
Strong, extremely versatile, easy to operate and very trust-worthy, they obtain very important results, for what concerns the cutting speed, the cutting precision and the blade life.
- Thick heavy metallic steel work, welded and normalized
- Frame sliding on ball recirculation guide-ways
- Cutting speed continuously variable through an inverter
- Proportional valve for the control and the variation of the down feed of the frame with relation to the real effort of the blade
- Hydraulic blade tensioning
- Motorized chips conveyor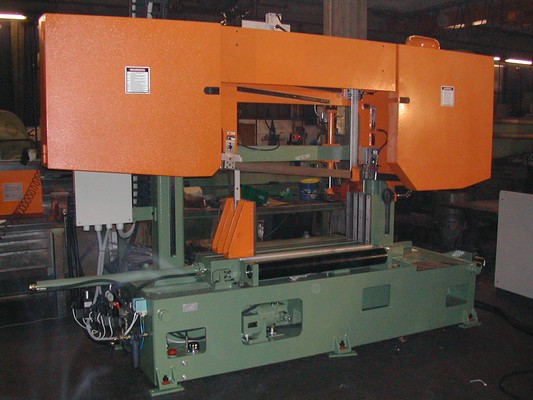 Cutting capacity

Profiles

mm
1050x610

Sheets metal

mm
1050x200

Full

mm
610

Pipe

mm
610

Blade dimensions

mm
7655x54x1,6

Frame feed

mm/min
0 - 500

Cutting speed

m/min
15 - 90

Main motor

kW
11

Hydraulic unit motor

kW
3

Coolant pump motor

kW
0,18

Reservoir capacity

Hydraulic oil

l
120

Coolant

l
95

Net weight

Kg
4490

Overall dimensions

mm
4080x1525x2515

Work. surface height

mm
875

Sede Legale: GALLARATE (VA) VIA
PURICELLI 5 CAP 21013
tel. +39 371 5767872

© 2022 Gernetti Roberto segatrici e impianti di taglio - PIVA è 03827620125 - sito realizzato da imaginaria